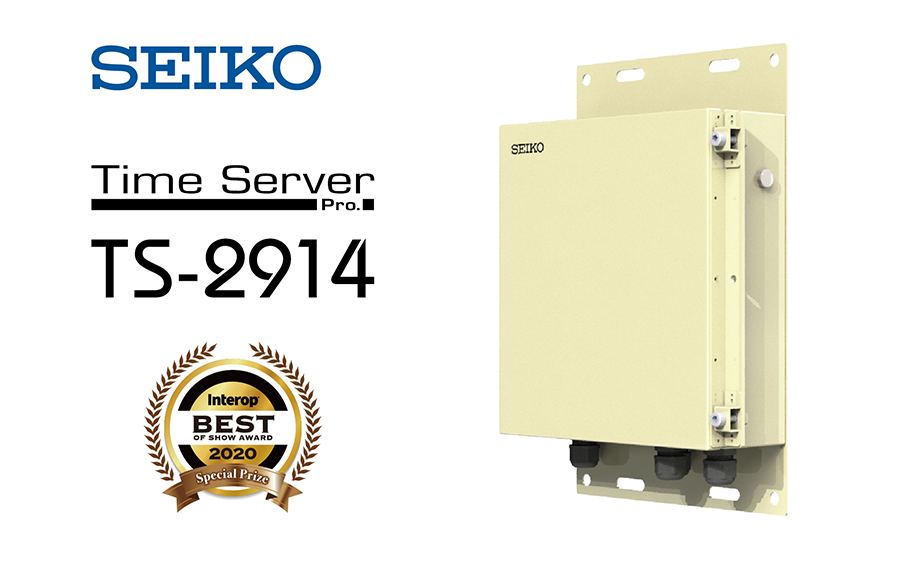 Product image may differ from the actual product.
Seiko Solutions Inc. (President: Mr. Jun Sekine, Head office: Chiba-shi, Chiba) starts shipping "Time Server Pro. TS-2914" as a new outdoor installable model of our compact PTP grandmaster clock "Time Server Pro. TS-2910 Series" for mobile carriers.
"TS-2910 Series" is a lineup of compact Japanese-made PTP Grandmaster clocks that can be easily installed in base stations. With our products designed for 4G-LTE, Seiko Solutions has responded to the demand for high-precision time synchronization by repeatedly enhancing its functions and participating in interoperability tests in Japan and overseas.
At present, not only in Japan but also around the world, the mainstream of mobile communications is in the stage of shifting from 4G to 5G, and in order to realize the improvement of communication quality with the efficiency of bandwidth utilization and the diversification of applications, more advanced communication methods are required. Since high-precision time synchronization is required for linking base stations, the international standard time synchronization standard PRTC-B*1 allows a grandmaster clock only ± 40 nanoseconds of time lag from the absolute time in a 5G mobile network.
Based on "TS-2910 Series" function conforming to PRTC-B, the "TS-2914" now available for outdoor installation enables mobile carriers to configure 5G mobile networks with base stations installed in a variety of environments with greater flexibility.
"TS-2914" was awarded the Mobile Computing Special Prize of Best of Show Award at Interop Online (2020/4/13-6/30), one of the largest Internet technology exhibitions in Japan.
Seiko Solutions will continue to work toward the realization of Society 5.0 by providing products and services that meet a variety of time synchronization needs, including 5G mobile communications, which are becoming faster and larger in capacity.
PTP Grandmaster Clock Time Server Pro. TS-2914
■ Model name
– Time Server Pro. TS-2914
■ Shiping start date
– June 25h, 2020
■ Price
– Open price
■ Main features
– PRTC-B Compliant GNSS Receiver *
– Multipath mitigation supported *
– Anti-jamming and anti-spoofing enhancements *
– IPv6 Supported *
– IP 65: Protected against water and dust
– Temperature range: -40 to 70 ° C
*Features of Time Server Pro. TS-2910 Series
■ Specificatons
– Time Sources: GNSS (GPS, QZSS Galileo and GLONASS)
– Holdover accuracy: ± 400ns/5hrs, 1.5μs/24hrs (OCXO Type-A)
– LAN interface: SFP-optical (1000BASE-X) x 2
– PTP Profie:
Telecom profile for Frequency (G.8265.1)
Telecom profile for phase/time (G.8275.1)
Telecom profile for phase/time (G.8275.2)
– Rated voltage: AC100 -240 V(50/60 Hz) / DC -40.5V ~-57V
– Installation: Wall or pole mount
– Dimensions: 312(W) x 102(D) x 430(H) mm
– Weight: Approx. 6.5 kg
Time Server Pro. TS-2910 Series Product Information
https://www.seiko-sol.co.jp/en/products/time_server/time_server_pro/
*1 PRTC-B: Equipment that satisfies the requirement of a time lag of 40 nanoseconds or less from UTC as stated in the international standard (G. 8272), which specifies the accuracy of time standard equipment (PRTC). It is necessary to achieve more accurate time synchronization than PRTC-A (Time error within 100 nanoseconds).
* Product names mentioned in this document are trademarks or registered trademarks of their respective companies.