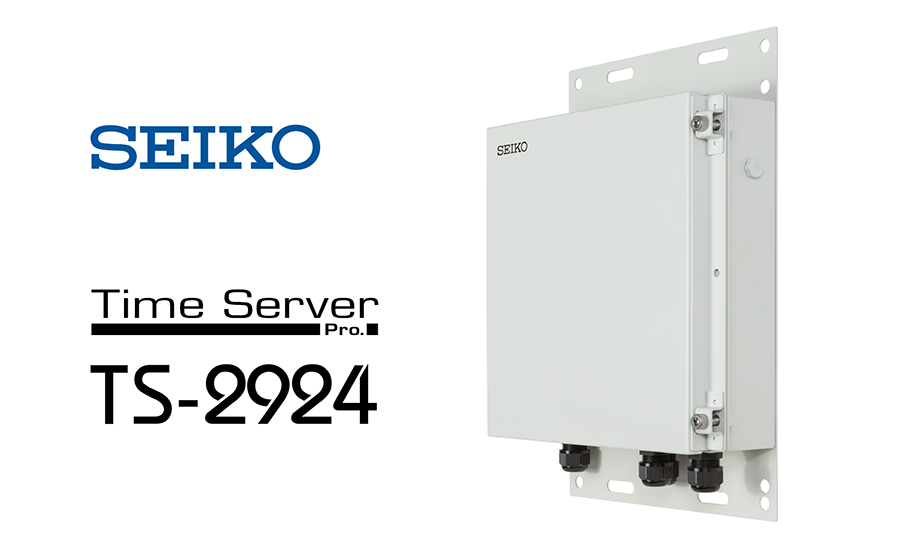 Seiko Solutions Inc. (President: Mr. Jun Sekine, Head office: Chiba-shi, Chiba) unveils "Time Server Pro. TS-2924" as a new outdoor installable model supporting 10 Gigabit Ethernet. The product will be available from June 2022.
Currently, the mainstream of mobile communication is in the transition phase from 4G to 5G not only in Japan but also worldwide, and more advanced communication methods are needed to achieve more efficient bandwidth utilization and to improve communication quality for diversified applications. Since the coordination between base stations demands high-precision synchronization, PRTC-B*1, the international standard for time synchronization, requires grandmaster clock to keep absolute time errors within ±40 nanoseconds when building 5G mobile networks.
"TS-2924" is designed to comply with PRTC-B and to be installed in base stations in diverse environments, allowing mobile operators to configure 5G mobile networks more flexibly.
In addition, recently, "10G compatibility of physical interfaces" due to the increased bandwidth of networks has emerged as a user need for PTP grand master clocks. The new "TS-2924" is compatible with 10GBASE-R interface and can be introduced in a wider range of situations than ever before.
"TS-2924" the first 10G-compatible PTP grand master clock produced in Japan for mobile carriers*2, follows the functions and specifications of the compact PTP grand master clock "Time Server Pro.TS-2910 series," which is used by many mobile carriers in Japan and abroad, enabling smooth equipment upgrades. In addition, it uses the same chassis as the TS-2910 Series outdoor model "TS-2914," which has a proven track record of numerous installations.
Seiko Solutions will continue to develop and propose secure and highly accurate time synchronization solutions that support customers' businesses, including 5G mobile communications, which are becoming faster and larger in capacity.
"Time Server Pro. TS-2924" will be exhibited at Interop Tokyo 2022 to be held at Makuhari Messe in Chiba, Japan from June 15 (Wed.) to 17 (Fri.), 2022.
PTP Grandmaster Clock Time Server Pro. TS-2924
■ Model name
– Time Server Pro. TS-2924
■ Shipping start date
– June 2022
■ Price
– Open price
■ Main features
– Supports 10 Gigabit Ethernet (10GBASE-R)
– Designed for Outdoor Installation
– IP65: protected against water and dust)
– Temperature range: -40 to 70 ° C
– PRTC-B Compliant GNSS receiver (for 5G network infrastructure)*
– Multipath mitigation supported*
– Anti-jamming and anti-spoofing enhancements*
– IPv6 supported*
* Follows the functions and specifications of TS-2910 Series
Time Server Pro. TS-2910 Series Product Information
https://www.seiko-sol.co.jp/en/products/time_server/time_server_pro/
*1 PRTC-B: Equipment that satisfies the requirement of a time lag of 40 nanoseconds or less from UTC as stated in the international standard (G. 8272), which specifies the accuracy of time standard equipment (PRTC). It is necessary to achieve more accurate time synchronization than PRTC-A (Time error within 100 nanoseconds).
*2 Based on our own research
Product names mentioned in this document are trademarks or registered trademarks of their respective companies.