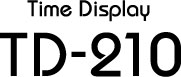 Time display to show precise time with 7-segment large LED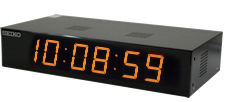 [IPv6 supported]
Features of TD-210
Features 1  Highly visible large LED display and in 2U rack mount chassis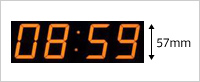 TD-210 provides high visibility with 57 mm digit height 7-segment large LED.
Time format of 12 or 24 hours are selectable and also all international time zone are supported and selectable. The 2U chassis are rack mountable but desktop installation is also available by just removing the detachable rack mount fittings.
 
Features 2  Multiple NTP servers can be registered as time sources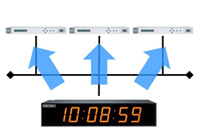 Up to three NTP time servers can be set up as time sources and a time synchronized with one of three time servers will be displayed. In case time synchronization with higher level NTP server fails the alert will be notified by blinking colon in the display.
 
Features 3  Easy Web browser setting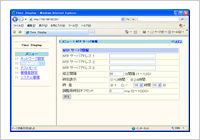 All configurations including time correction interval, 12 or 24 hours format change and verification of synchronism with NTP server can be easily set up through Web browser.
TD-210 Specifications
Network
Protocol
NTP/SNTP, HTTP
LAN interface
10BASE-T / 100BASE-TX
Time information
Protocol
SNTPv3
Transmission method
unicast
Quartz accuracy
+/-15s/month (+25ºC)
Specifications
Rated voltage
AC100V±10% (50/60Hz)
Rated current
0.2A
Power consumption
11W
Calorific value
39.5kJ/h
Operation Temperature
0~40ºC
Operation Humidity
20~80% RH 20%~80% RH (no condensation)
Installation style
Desktop, rack mount
External dimensions
430(W)×280(D)×44(H)mm (Projections not included)
Weight
approx. 3.9kg
Certification
VCCI-A, RoHS, PSE