Tri-color LED Time display
 enables to alert abnormality
by sound-and-light
Monitoring and alerting function added to time display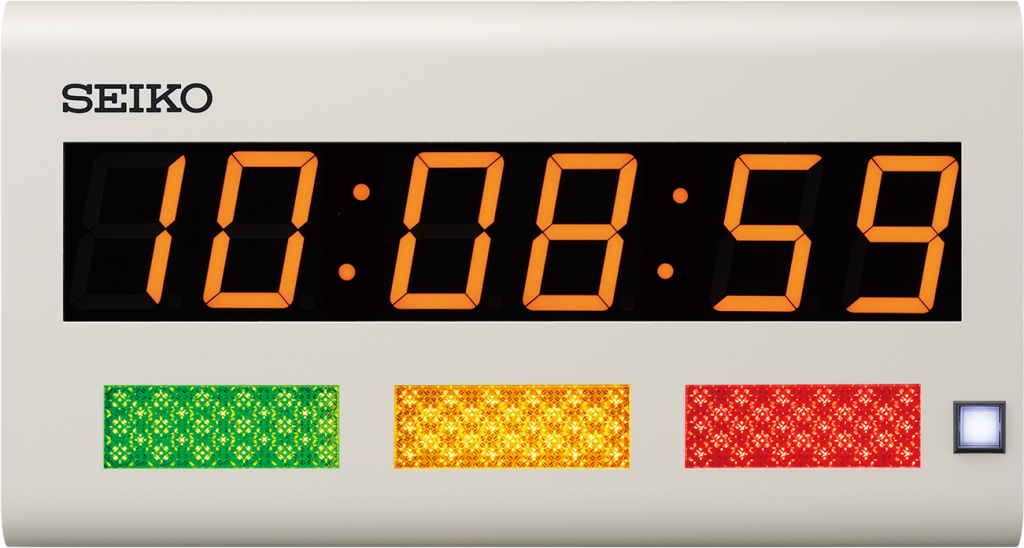 Features of TD-450
Features 1  7-segment large display plus Tri-color LED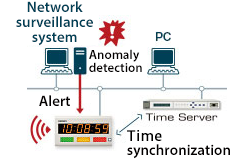 Not only just displays high precision time information from NTP server but also controls LED light and buzzer sound through SNMP Trap and RSH and provides an easy synchronization linked with the network monitoring system.
 
Features 2   Ping monitoring up to 5 clients
Alive monitoring of IP nodes using ping are available up to 5 clients.
 
Features 3   Easy Web browser setting
Synchronization with NTP server and LED light control can all be easily set up through Web browser.
 
Features 4   Various mounting method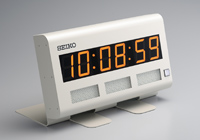 You can select suitable mounting method, wall bracket mounting, rack mounting, or desktop installation in accordance with your use environment and also you can choose your power supply from PoE or AC adapter.
TD-450 Application Example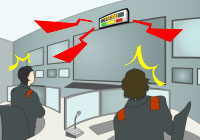 TD-450 time displays are installed in various applications for network systems, system operation centers and monitoring operation centers. It sends quick alert for abnormality of the system by sound and shows its accurate occurrence time by tri color LED display in coordination with failure monitoring systems.
TD-450 Specifications
LAN interface
10BASE-T/100BASE-TX 1port
Time synchronization interval
Adjustable between 1~120 minutes
Display
7 segment LED (digit height: 57mm, orange)
Numbers of servers to be accessed for synchronization set-up
Maximum 3 servers
Oscillator stability
+/-15s/month (+25ºC)
Time format
12 hours or 24 hours
Alarm
LED light, buzzer sound
External speaker output
Ф3.5mm stereo mini jack (mono)
Monitoring
ICMP echo x5, SNMP traps x10
Notification e-mail
10 e-mails
Remote command
RSH
Specifications
Rated voltage -Note 1
PoE+( conforming to EEE802.3at),  AC adapter:AC100V~240V(+/-10%)
Rated current
0.26A(PoE+), 0.23A (AC adapter) 
Power consumption
13.5W(PoE+), 14W(AC adapter)
Calorific value
48.6kJ/h(PoE+), 50.4kJ/h(AC adapter)
Operation Temperature
0°C to 40°C
Operation humidity
20%~80% RH (no condensation) 
Installation style
Wall-mounted (no mounting bracket), Rack mounted (with mounting bracket), Desktop holder (option)
Dimensions
370(W) ×60(D)×200(H)mm (projections not included) 
Weight
approx. 1.3kg
Certification
VCCI-A, RoHS
-Note1: You can select PoE+ or AC adaptor by main body switch.